The Rise and Fall of Hertford Castle - Guided Walk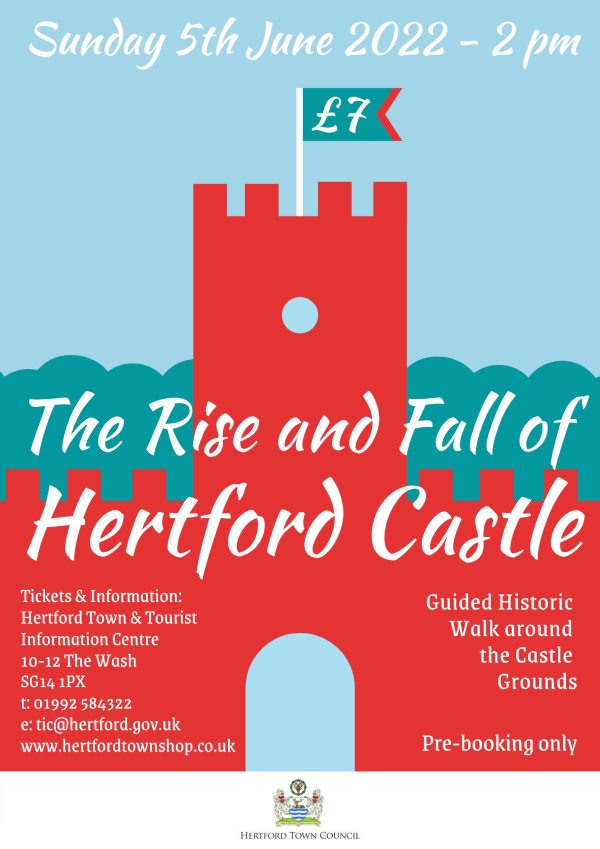 The Rise and Fall of Hertford Castle - Guided Walk
Hertford Castle was founded by William the Conqueror, besieged in the reign of King John, it became a favoured royal residence and Elizabeth I spent part of her childhood here and as Queen often stayed here.
This guided walk explores the castle - a fortress that became a royal palace. In the Middle Ages kings granted the castle to their queens. Foreign kings were held hostage here, there were royal marriages, deaths and the birth of a Spanish queen. But side by side with the luxury of the royal court it was also home to the assizes and the gaol. Parliament and the law courts relocated from London in times of plague. It became a private house and some of the tenants were involved in scandal and accusations of murder. Later it was re modelled as a gentleman's home in the latest fashionable style with that "must have" accessory - an ice house.
Our tour looks at the remains of the impressive castle wall and the Gatehouse, an important and early example of brick building that foreshadowed later, more famous examples. And we tell the story of the castle, how it shaped the town and fortunes of Hertford. It also has links to the American War of Independence and the American Constitution which may surprise you.
£7 – Booking is essential
Walk starts in Parliament Square.
Tickets and further information:
Hertford Town & Tourist Information Centre
10-12 The Wash, Hertford
(01992) 584322
tic@hertford.gov.uk
or purchase online here:
https://www.hertfordtownshop.co.uk/our-ranges/event-tickets/
---