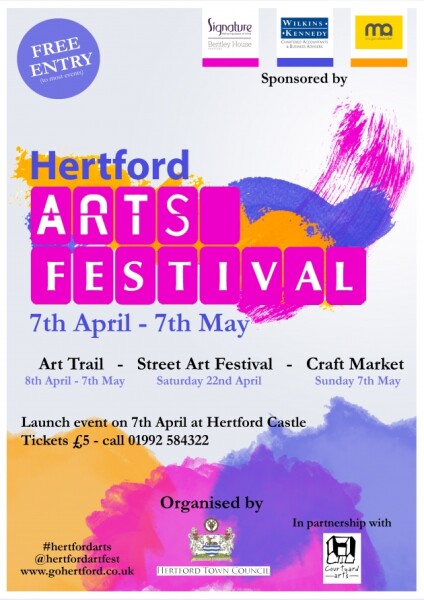 Hertford Arts Festival
Download Programme
The annual Hertford Arts Festival will run from Friday 7th April – Sunday 7th May to showcase and promote the local arts. This event will overlap with the Hertford Arts Society Exhibition, Hertford Theatre week, and Courtyard Arts Society Exhibition.
Hertford Arts Festival Launch at Hertford Castle
Friday 7th April 18.00 – 20.00
Ticket price £5 each to include a complimentary glass of sparkling wine.
50% of the ticket price will go to the Mayor of Hertford's Charity.
This exclusive charity event will showcase and preview artist's work taking part in the Hertford Art Trail. The evening will provide an opportunity to view a spectacular art exhibition in the Hertford Castle Downshire Suite. Artists will be on hand to present and answer queries about their work, which is also available for purchase.
Tickets are available to purchase for £5 from Hertford Town & Tourist Information Centre, alternatively tickets can be purchased on
hertfordartsfestival.eventbrite.co.uk
for £5 plus an administration fee.
Hertford Arts Festival Trail Part of the Hertford Arts Festival
Saturday 8th April until Sunday 7th May - Free Entry
This free art trail allows the public to take a tour around Hertford and visit over 25 pop-up art exhibition venues. The artwork ranges from sculpture to textile, oil on canvas to water colour and the majority of the art is available to purchase.
Street Art Festival Part of the Hertford Arts Festival
Saturday 22nd April 10.00 – 16.00
This brand new event will take to the streets of Hertford Town Centre to showcase the local artistic talent. The town will come alive with entertainment throughout the day, from street dancers and performers, to local musicians and kids art and craft workshops. The streets will become a buzzing hub of artistic talent.
Hertford Castle Craft Market & Open Day Part of the Hertford Arts Festival
Sunday 7th May 12:00 - 16:00 - Free Entry, Charity Donations Welcome
To mark the end of the Hertford Arts Festival, Hertford Castle will open its doors to the public for the first time this year. Visitors are welcome to explore the Castle Gatehouse and grounds free of charge. Up to 50 craft stands will exhibit an array of handmade assortments from jewellery to homeware, homemade produce to vintage clothing. Children will be able to get creative with a variety of craft based activities on offer.
This event is sponsored by
Signature at Bentley House - Morgan Alexander - Wilkins Kennedy
---