Hertford Castle Open Air Theatre - A Midsummer Night's Dream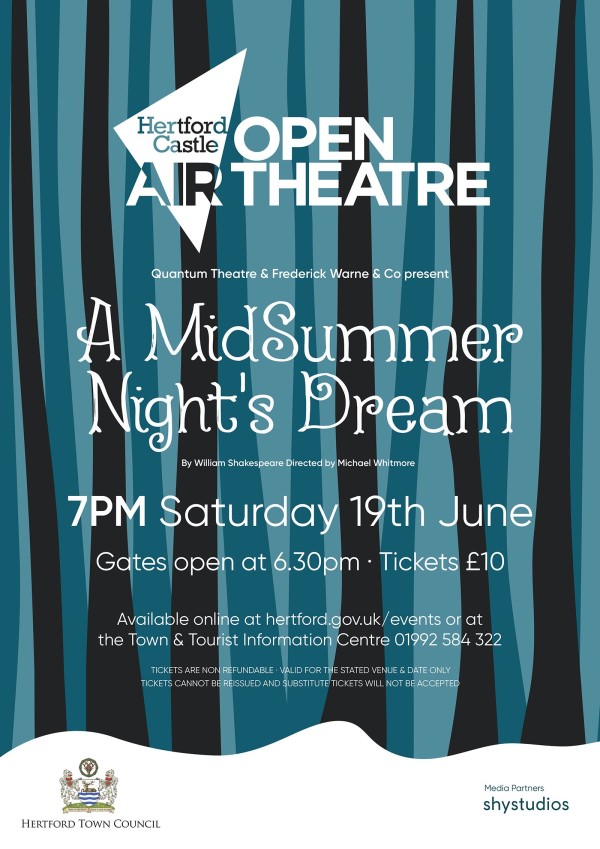 Hertford Castle Open Air Theatre - A Midsummer Night's Dream
Don't let the extra daylight hours dwindle away, head to Hertford Castle to enjoy open-air entertainment this summer.
Hertford Castle will be hosting two open air theatre performances in its grounds for you to enjoy with friends and the whole family. Bring along a picnic, or treat yourself from the food stalls and bar, sit back, relax and enjoy the show.
Quantum Theatre presents A Midsummer Night's Dream
Gates open at 6.30pm, performance starts at 7pm
Ticket price £10 per person (babes in arms free)
A Midsummer night's dream
Shakespeare's classic comedy of love and intrigue, magic and mayhem, is brought to life by family favourites Quantum Theatre in their wonderfully funny and exuberant production of the Shakespeare classic.
Set on that most dangerous of nights when fairies are abroad and nothing is as it seems four young, unsuspecting, lovers become entangled in their magical affray and soon no mortals are safe in those bewitched and bewitching woods outside Athens….
Buy tickets
Tickets are available to purchase online at https://hertfordtowncouncil.nutickets.com/Midsummer.
Alternatively, you can purchase tickets from the Hertford Town & Tourist Information Centre by calling 01992 584322.
Please ensure you read the Terms and Conditions below before purchasing tickets. By purchasing a ticket, you agree to adhere to these T&Cs.
Hertford residents' priority booking
Hertford residents can get priority access to tickets for this event. Tickets are only available to residents from within Hertford Town Council boundaries (including Hertingfordbury and Bengeo) for the first week of sale until Wednesday 26th May 2021. After this, tickets will be open to the general public to purchase.
For your own safety and enjoyment we ask you to please follow the below.
Terms and Conditions
All tickets must be pre-booked.
All guests are required to have a ticket including those under two years of age. Please select the 'free' ticket option for anyone under two years of age.
Entry to this event will be allowed based on Government legislation and social contact rules, including the requirement for anyone over 16 years old to provide details for test and trace (as required by law, contact details will be kept for 21 days after the event date for NHS test and trace. Details will not be used for anything else).
Guests will be allocated a marked area to sit on the Castle lawn in line with Government social contact rules.
There will be a maximum 12 people allowed in each allocated area.
Guests will be required to remain in their allocated area at all times, unless they are purchasing refreshments or using the facilities, when they will be required to maintain a social distance from others and adhere to the one-way system. Masks will be required for the facilities (unless exempt).
A one-way system for entry and exit and use of facilities will be in place.
Guests are responsible for ensuring they attend this event in line with Government guidelines.
Guests who are accompanied by children are responsible for supervising them at all times and should ensure they follow social distancing guidelines.
In the event of bad weather the event will go ahead - please check the forecast and come prepared.
Guests should bring something to sit on (blanket or picnic chair).
No naked flames, BBQ's, gas stoves or candles. No tents, gazebos, parasols or pop-up structures. No umbrellas (except at management discretion).
No dogs or pets (except guide dogs).
If you wish to smoke, please move to the back of the audience arena, and be courteous of other audience members.
Please place all rubbish into the bins provided or take it away with you.
Any drinks purchased onsite, must be consumed within the event site.
Please take note of the film certification.
By purchasing a ticket, you are agreeing that you and the guests within your party will abide by the above rules of the event. Anyone not adhering to the rules, is at risk of being asked to leave the event.
Tickets are non refundable for any reasons, other than should the event be cancelled due to COVID19 a full refund will be made.
Please contact info@hertford.gov.uk or call 01992 584322 if you have any questions.
Event Information
Location
Hertford Castle, Castle Street, SG14 1HR
Entry information
The Castle grounds can be accessed by foot at any of the following pedestrian gates, Castle Street, St Andrew Street Car Park, Main Castle Gate off The Wash, through the Moat Garden on Castle Street, or the gate off of Gascoyne Way. A one-way system will be in place on the Main Lawn. Therefore, it can only be accessed by one point for security checks. Please follow signage.
See above for entry Terms and Conditions.
Parking
There is no parking at Hertford Castle (including disabled) but there are a number of car parks close to the Castle which are free to use on Sundays. Please click here to download a map of the local car parks.
Amenities
Toilets are located to the side of the main lawn on the footpath by the Ashley Webb Shelter.
Disabled toilets & baby changing facilities are available inside the castle, please speak to a volunteer on the door for access.
First aid is located on the main lawn.
Contact
Please contact info@hertford.gov.uk or call 01992 584322 if you have any questions.
---